Basically, any of those on ride photos from rollercoasters are to go here. Obviously, not many of them will have Simon on, but, anybody who's got an on ride photo that shows just how brave they are, pass it on to Steve to get it scanned, and we'll put it on this page. Oh, and if you click on any of the piccies on this page, you get to see a big version. Thought I should make that clear, because apparently it isn't. Clear, that is.
A double of helping of piccies from Space Mountain at Disneyland Paris (or whatever). In the top picture you can see Andy hanging on for his life, and also Billy, but not Janet. Too scary for you was it ????? In the bottom picture you can see the Millers, with their now familiar scared stupid grimaces.
November 1998 - The imaginatively named High Roller on top of the Stratosphere in Las Vegas. I'm so cool I could ride this coaster in shades, and Simes is so cool he could ride it with his eyes shut !
November 1998 - The Big Shot, again on top of the Stratosphere. This is one of those rides that shoots you into the air, very very fast. Don't know how Jon Allen was there at the same time.
May 1999 - Dragon Khan, somewhere in Spain. In the 8 times I went on this ride, this was the best photo. Sad eh?
And this, if you're still awake, is what Dragon Khan actually looks like. Loopy eh ???
May 1999 - Stampida, again in Spain. There were two coasters on this ride, and you're racing the other one. I think I was slightly annoyed because the other one was cutting a corner.
November 1998 - Jurassic Park, Los Angeles. Globe trotters Miller & Webb, in some 'scary as hell' ride with a very big vertical drop. Notice how everybody else has raincoats on. Poofs.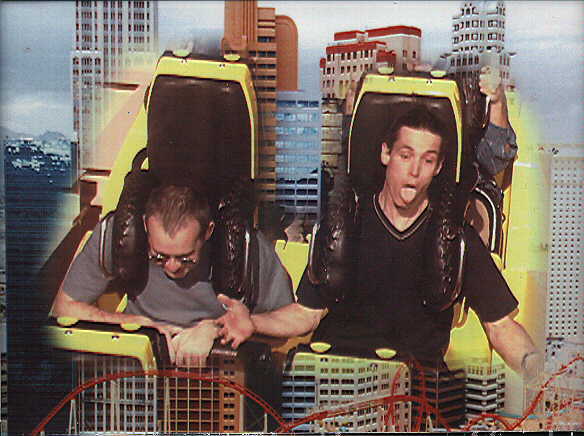 November 1998 - Our Hotel - New York New York, Las Vegas or more precisely The Manhattan Express which circled round it. Very long climb to the first drop, and ends with a little trip through the inside of the hotel. The Webster is actually hands free here, and I'm the one clinging on for life for once. Very noisey coaster too, when you're in the pool you get the pleasures of its tones every two sodding minutes. Something to watch, though. Apart from all those birds of course.
October 2000 - Miller & Giles pictured on the jolly exciting corkscrew at Alton Towers. Not a lot else to say about this!
October 2000 - Miller & Rachel plummeting senselessly into the ground. Number 4 in a series of 11.
October 2000 - Miller & Co on the Black Hole at Alton Towers, which was obviously a heckuva lot more scary than we'd remembered.
September 2002 - It's the Manhattan Express in Vegas again. And Si's nowhere to be seen ! (Miller & Rachel)
September 2002 - Vegas - The Big Shot again. Still the scariest thing ever.
September 2002 - Vegas - Speed @ the Sahara Casino. Riding into the sun.
---
That's quite enough of that.
---