PICTURE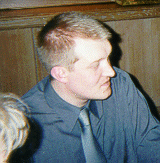 STUFF
Hello, I'm Christian. I'm 25 you know
My nicknames include : Frantic, Mad Frantic, Mad Frantic Fraser.
My favourite saying's are: Okay, let's play Who wants to be a millionaire, Is that your final answer?
My hobbies include: Hosting game shows, looking at girls.
My best PASSJAMS finish is: Ah, 13th last year. But I did enter late.
Cup's I've won: Ah again. Shut up.